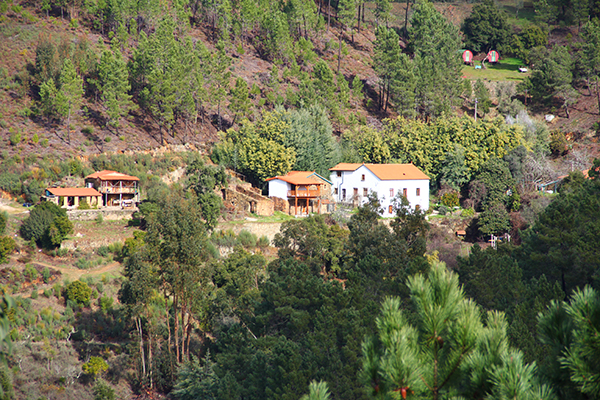 Visit a magical unspoilt part of Portugal which is set in the heart of the country with breathtaking backdrops of the Portuguese mountains.
The retreat centre is six hectares in size and has some lovely hiking routes to nearby villages as well as through the forest tracks. If you are looking to just rest and relax then you can take a dip in the natural sea salt water swimming pool or rest in one of the many hammocks hanging between the pine trees. In a retreat centre this size find space to be alone is not difficult. Around the retreat centre you will find ancient trees such as the native cork oak tree standing tall and lots of olive trees and lots of wild flowers popping up everywhere.
Accommodation
The retreat centre comprises of four buildings with single, double or twin rooms to choose from which are incredibly comfortable and well decorated with a blend of antique and modern fixtures and furniture. There is a library with just about any book you could be looking for to help you along your journey of self improvement and spiritual connection. You can lounge in the massive chill out space indoors. There is also lots of herbal teas and coffee available in the rustic dedicated guest kitchen.
Yoga Practice
When you stay at the yoga retreat centre you will have the option if practicing many different styles of yoga which range from ashtanga yoga, yin yoga, vinyasa flow, qigong, mindfulness meditation and much more. You also have the option of taking a massage. The teaching on this retreat has not lost its roots to spirituality as you will experience by the way the practice is taught. As we spend a lot of our time actually thinking on our feet we can sometimes forget that we also need to nurture and take care of ourselves or pretty soon we find ourselves stressed out and sometimes unable to cope with the normal things in life.
Vegetarian Food
All of the food served on retreat is vegetarian while food cooked by the resident chef. All dietary requirements are catered for and if you need anything extra then that will also be arranged. Taking a week break to detoxify the body and free the mind to find peace is what a balanced diet will do for you. You will notice that your energy levels come into balance as well as your digestive system functioning optimally.
Why Choose This Retreat?
Peter & Sue (who are the founders and owners) bought what was a derelict property over a decade ago to run group retreats for people who are wanting to escape the everyday stresses of modern day living and relax for a week or two away from everything. They are both senior yoga teachers and have also trained in many other disciplines which they are also teachers.
If you are looking for a authentic yoga retreat experience (which are very hard to find today) then this is the place to fulfil that dream.