Planning a trip to Dandeli itself gives a rejuvenating feeling along with sense of calmness & peace. When travelers reach the lands of Dandeli, they enter to the world of enjoyment far away from their daily hectic routine. This trip can be made much more wonderful & memorable by involving so many activities.
Making your stay at jungle resorts during your entire Dandeli journey is something that remains the most memorable time of your life throughout. There are various beautiful resorts offering most lavishing rooms with awesome hospitality services that also in the surrounding of Dandeli. Once you have finalized the destination for your stay then the second important thought is to decide what things to do on Dandeli adventure tour to make this trip wonderful for you and your family.
What you can do at Dandeli?
People who are interested in doing adventure activities then Dandeli is the place where you are allowed to do so many adventure things. Some of the things that you can do here are elaborated below in details:
Jungle Jeep Safari: While having jeep safari at jungle you would probably notice Black Panther, birds, wolves or the beautiful peacock dance etc. Many animals climb across the jeeps and roams openly in the jungle so it's strictly advised to visitors to keep the windows closed.
White Water Rafting: This is the most popular things to do on Dandeli adventure tour, while having water rafting, you evident the most beautiful scenery and the wildlife of Dandeli. It's one of the best things that South India could offer and also the most popular attraction of Dandeli.

Jacuzzi Bath: Dandeli has so many natural things to offer and Jacuzzi bath is one of them where you can enjoy the natural massage from spilling water of Kali River. You can never find water so playful, pacifying, pure and crystal anywhere else except river Kali. This is one of the most popular things that people do when they visit Dandeli.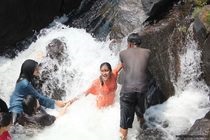 Rappelling: Rappelling is a very adventurous activity that people can enjoy during their stay at Dandeli. It's done by getting down from a rock using a rope. This thing is been done by climbers when the slope or cliff is a too steep and dangerous to climb without having a proper protection. This activity is recommended for those travelers who love heights and love doing the adventure activities.