The capital of India Delhi is not only famous for its historical monuments and buildings, but also known for its popular cuisines and delicacies. Delhi is a destination well known for its street foods which are available in different varieties and attracts the people from a kid to an adult with its awesome flavour and finger licking taste.
Here are mentioned 10 most delicious and tasty street foods of Delhi-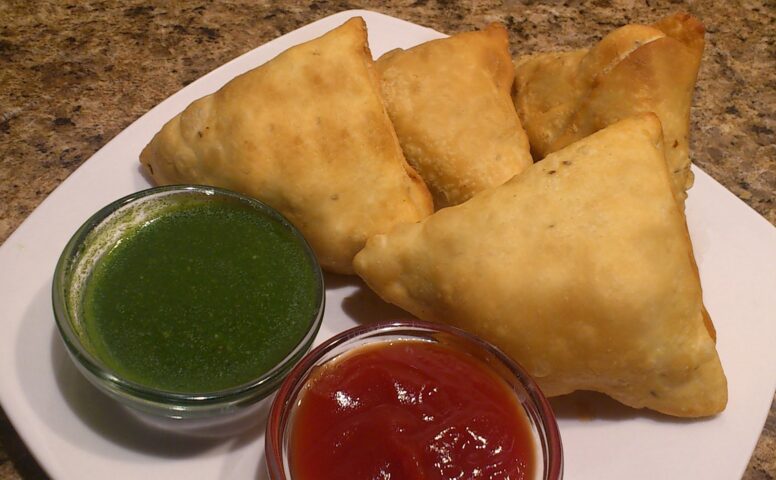 1. Samosas with Spicy Chutney
Samosas are the one of the popular street food of Delhi. You can easily have some in your evening snack with chhole and with spicy chilly or tamarind chutney. Chutneys of samosas are made specially to enhance the taste of the delicious samosas.
Places to eat mouth watering samosas in Delhi are Tilak Munjal in Pitampura, Chandni Chowk eateries and Crispy Tokri at Kalkaji.

2. Momos With Chilly Sauce
Momos are another famous street foods of Delhi. Momos are steam prepared and like by everyone. They are available with different types of stuffings like vegetables mix, chicken and mutton. These small dumplings are served with red chilly sauce and mayonnaise.
Places to eat yummy momos in Delhi are
De Paul's in Janpath, Momos at Momo's Point, Kamla Nagar.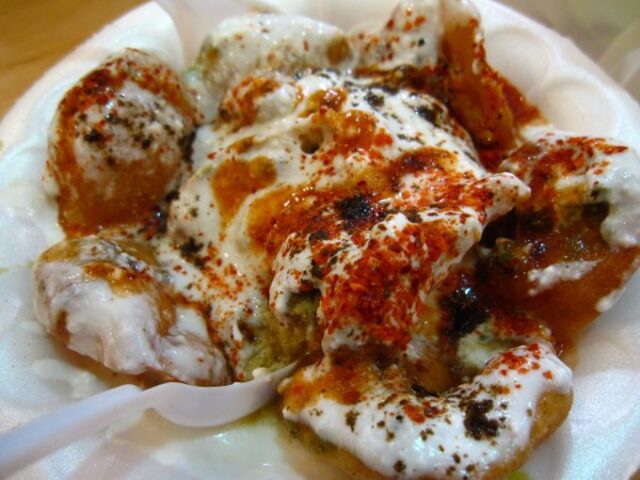 3. Aloo Tikki With Imli Chutney
Aloo tikki is the one of the most eaten street food of Delhi. Aloo tikkis are made of boiled potatoes made into small flat patties and fried in oil, plain or stuffed with green peas. Fried aloo tikkis are served either with sweet dahi, tamarind chutney garnished with sev or papri, onion and coriander leaves.
Places to eat aloo tikki in Delhi are Natraj in Chandni Chowk, Atul Chaat Corner in Rajouri Garden, Bitto Tikki Wala in Pitampura.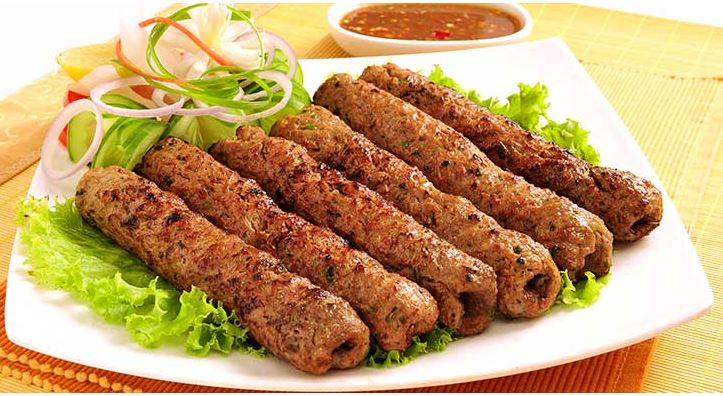 4. Tempting Kebabs
Kebabs are yet other most popular and delicious street food of Delhi. Many varieties of kebabs are found in Delhi and you can opt any of those tempting kebabs according your liking and taste.
Among these varieties Seekh Kebab is the most known Kebab. Then comes the Shami Kebab and Galouti Kebab.
Places to eat finger licking kebabs in Delhi are Kebab points in local market, Al Kakori at Vasant Place Market,
Karim's in Jama Masjid.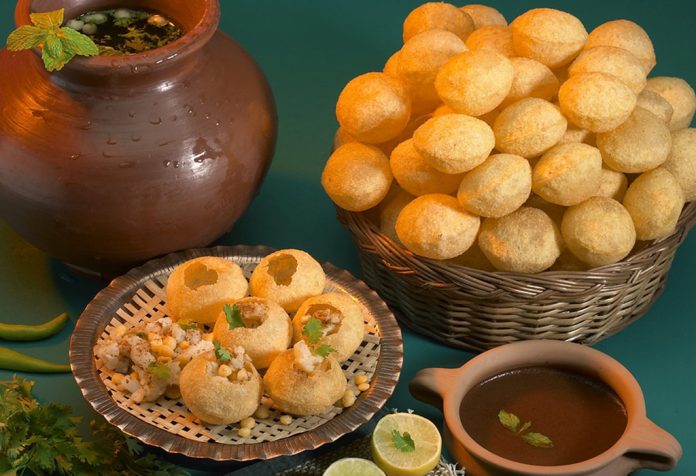 5. Spicy Golgappe or Pani Poori
Golgappe is the most eaten street food of Delhi. Mostly Golgappes are made up of wheat flour or samolina. They are pinched to hole and few pieces of boiled potatoes, some chickpeas are fulled into it, then they are dipped in a spicy chilly mint water and the yummy tasty golgappe then eaten up.
Places to eat golgappe in Delhi are local market in Chandni Chowk, Rajouri Garden, Lajpat Nagar Market.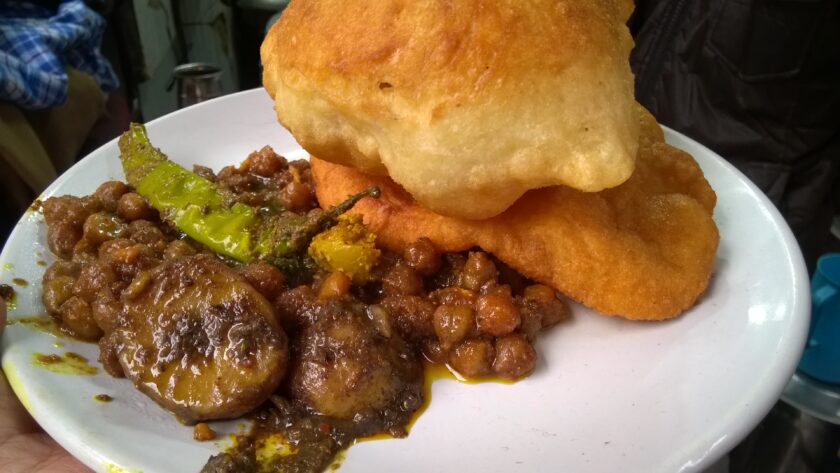 6. Chole Bhature With Pickle
Chole Bhature is available in Delhi commonly as a street food. Bhature are made up of wheat flour or samolina its dough is made then the round pooris are made and fried in the oil. They are served along the chickpeas, slices of onion and pickle.
Place where you can eat Chole Bhature in Delhi are : Sitaram Diwanchand in Paharganj, Chahcha ke chole bhature in Kamla Nagar.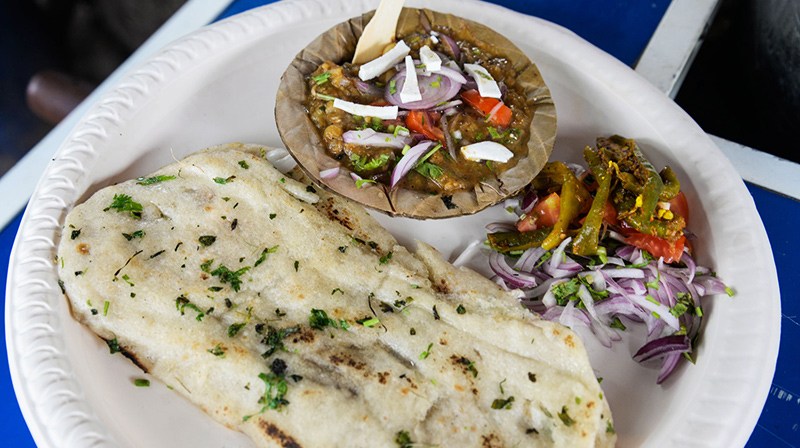 7. Mouth Watering Chole Kulche
Chole Kulche is another street dish of Delhi which is enjoyed by Delhi people. In Chole Kulche , kulcha is made of maida or white flour and it is served along with spicy masala chickpeas , onion , pickle and a slice of lemon.
Places to eat Chole Kulche in Delhi are Lotan ke chole kulche in Chawri Bazar, Bhogal ke chole kulche near Scindia House in Connaught Place.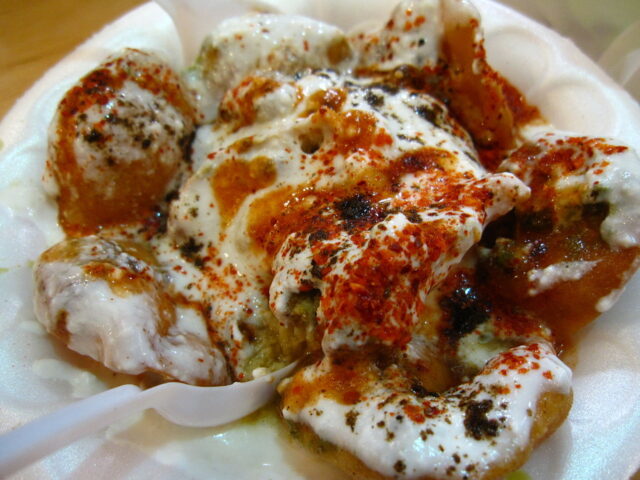 8. Chaat With Spicy Saunth Chutey
Chaat as known is the most enjoyed and eaten food which is quite famous in Delhi. Various varieties of chaat are available in Delhi ranging from Aaloo Chaat, Papri Chaat, Samosa Chaat and Dahi Bhalla Chaat served with green chilly chutney and sweet tamarind chutney for the spicy finger licking treat.
Places where to eat the spicy yummy chaat in Delhi – Ashok Chaat Corner and Hira Lal Chaat corner in Chawri Bazar.
9. Tasty Parathe
Parathe is one of the most known breakfast and street food of Delhi. Different flavours of parathe are found in Delhi from stuffed paratha, egg paratha, pizza paratha to deep fried paratha of parathe wali gali.
Places where to eat paratha Parathe Wali Gali, Moolchand ke Parathe, Not Just Parathas at Rajouri Garden.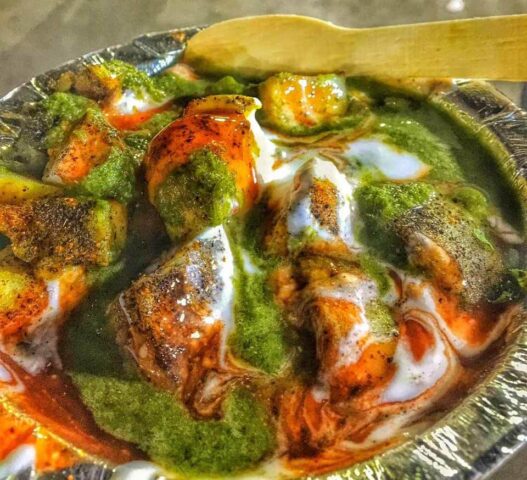 10. Delicious Kachori
The mouth watering kachoris are favourite treat of the Delhites. Various types of kachori found in Delhi like matar kachori, onion kachori or dal kachori along delicious spicy sabzi garnished with coriander and green chillies that enhances its flavour.
Places to eat kachori in Delhi are Hanuman Mandir in Connaught Place, Jung Bahadur in Chandni Chowk Metro, Sharma Kachori wala in Pitampura.