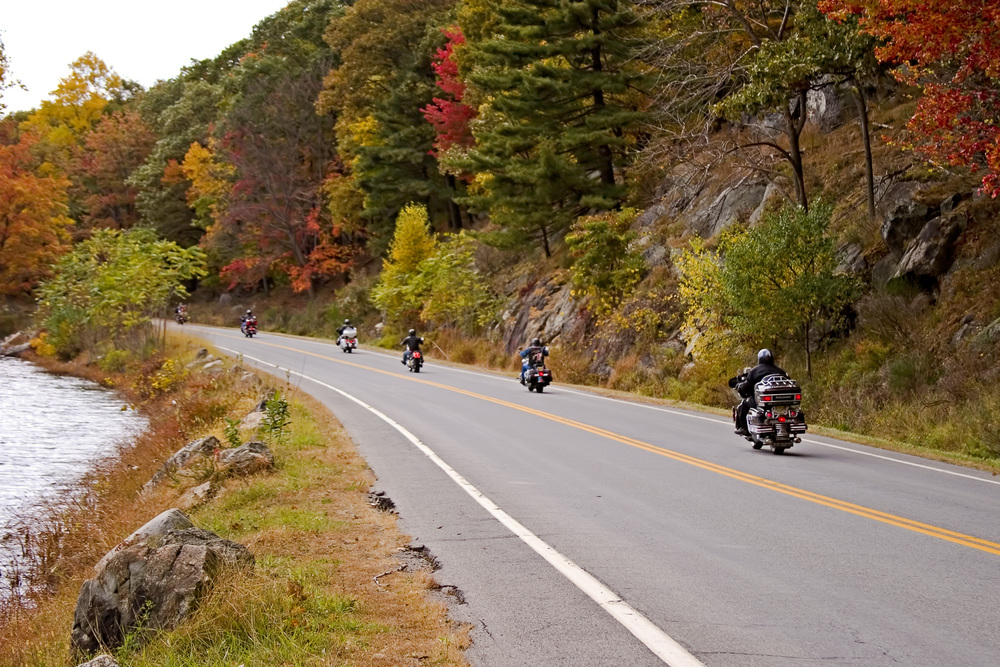 Unless you live in a part of the country that has year round riding weather, the beginning of fall marks the last ride for many motorcyclists. While it can be a bittersweet ride, there are many pluses to taking your motorcycle out in the fall. Not only will it be significantly cooler than some of your sweltering rides of the summer, you will be witness to some of nature's most stunning changes as you ride across the countryside. Whether you're taking your last ride of the season by yourself or with a group of fellow enthusiasts, here are some tips to ensure it will be the best ride of the year:
Plan Around the Foliage Peaks
The biggest reason to hit the open road during the start of fall, for your final ride, is to view the breathtaking reds and oranges of fall foliage. While fall colors stick around for awhile, depending on the weather, it's best to plan your motorcycle ride around the peak of color. Planning your trip on nature's time may force you to be a bit spontaneous, but you won't be sorry once you're surrounded by a stunning fall color palette.
Safety First
Before you head out and treat yourself to a memorable last ride of the season, it's important to remember and think about your safety. It's likely that while you are out enjoying the fall colors on your motorcycle, there will be other motorists doing the same. Often times, when motorists are on the road looking at autumn foliage they drive more slowly, may be less attentive to the road and other motorists, and may come to a sudden stop to snap a photo. As a motorcyclist your last ride of the season could be dangerous. According to Randall Sevenish, a Motorcycle Accident Lawyer, a large percentage of motorcycle accidents are caused by the inability or failure of an automobile driver to see the motorcyclist. As always, make yourself visible.
Last Ride of the Season Checklist
Charge up your cellphone, pack your gear, and get ready to take some frameable shots while you partake in leaf peeping:
Dress for the weather, wear layers that you can easily stow away
Wear helmets, jackets, and other motorcycle safety gear, have safety gear available for your passenger
Familiarize yourself with the road (ie. curves, etc.), check out a map first
Avoid distractions, pull over and take pictures of foliage (never from a moving bike)
Be prepared to ride slow and make unexpected stops (if other motorists are present)
Make sure you are well-rested
Abstain from alcohol and avoid any medications that make you drowsy
Be a courteous rider, practice patience with other motorists
Don't make risky moves like passing or tailgating
Look out for wildlife, such as deer crossing the road
Try to ride during daylight hours only
Enjoy your last ride of the season, even though you may need to wait another six months to get back on the road, make your ride a safe and colorful journey.