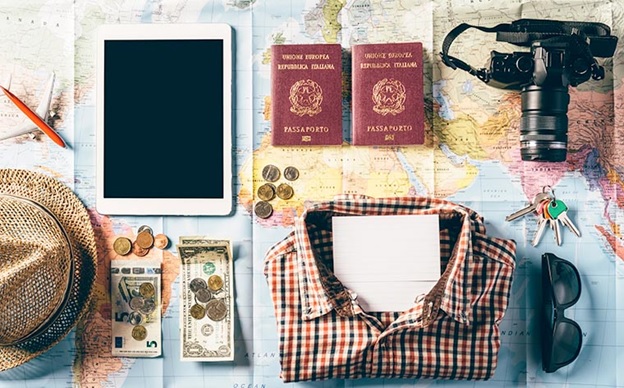 Traveling is a fancy is a fancy to a lot of people. To some, it's a chance to relax and rejuvenate. Others go for it out of professional duty. Regardless of the nature of one's travel, the need to prepare is a must.
This is especially true in the case of those who travel overseas mainly for recreation. Bringing the right pack can save you a lot of hassle when visiting an unfamiliar territory.  Below is a checklist of the must-have items on your pack.
Petty cash
It's easy to rely on E-wallet when traveling, but you must consider the possibility that some places may not have nearby ATM you can use. Keeping a stash of cash will ensure that you won't have any problems paying for any purchase while on the go.
Camera
Taking photos of travel experience is imperative in this digital age. To capture your best adventures, don't forget to have your camera (phone or an actual unit) fully charged for your getaway.
All-terrain trekking boots
This item matters most for anyone who plans on hiking or camping in some mountainous areas. But all-terrain trekking boots are also good accessories even when staying in the city. They are usable in any kind of environment and come in different style. Have a look at your options from local shops or online and see what style fits your fashion preference.
Travel hoodie
Contrary to what other people believe, hoodies are not only functional during the cold season but even on summer days as well. They protect your skin from direct contact with the sun. Lots of new hoodie designs are also crafted to incorporate some element of style fit for various preferences. If you're a fashion savvy traveler, hoodies are among the most convenient clothing you can sport.
Charger and power bank
You'll never know when your gadgets will run out of battery when you are out. To make sure that you have enough power, pack up a powerbank while on the go.
Tumbler / water bottle
More than that of the food, water is highly necessary. Whether you are hiking, camping, fishing or doing all sorts of activities, staying hydrated is a must. Bring a portable one that you can easily carry with your pack.
Cap (preferably water resistant)
Umbrellas are too bulky, and they are not practical when you are on the go and in a hurry. Caps are more convenient and easy to use since you don't have to stash it away every now and then.  Grab one, preferably water resistant to fit the changing weather.
Few shirts and pants
Having a set of comfortable clothes is a must. However, this does not mean that you should bring out all of the contents of your wardrobe. Pick a few pairs, those that are easy to fold and hard to crumple. Remember that you might still be buying some souvenirs from your destination. Keep your pack practical and easy to carry.
Disposable underwear
It's optional to go for the disposable ones. However, you should keep in mind that you will most likely not have time to do the laundry. If you will spend most of your time hopping from one place to another, choosing the disposable ones is a more practical choice.
Basic first aid kit
There are already a lot of clinics and hospitals scattered in different places. However, it's still better if you have with you some initial remedy for common health hazards like cough and cold. A basic first aid kit normally contains bandages, anti-allergy pills, ointment for insect bites, bandages and disinfectant. Feel free to add other tablets like those for headaches and fever.
If you are maintaining some sort of medication, be sure to include the specific medicine on your pack.
Foldable bag
Last but not the least, bring with you an easy-to-fold bag. You can use this for storing wet clothing, souvenirs, and trashes. You can't just bring your whole traveling bag while going to the supermarket or visiting a convenience store. Having a small foldable bag or pouch will be perfect to hold your money and important identification cards.
Traveling is fun, but only if you make sure you have all the necessities taken care of. Make a list beforehand to ensure nothing is forgotten.