The world of theme parks is forever trying to out-do each other. If it's not the Star Trek ride in Jordan it's the gigantic replica of Noah's Ark in the proposed biblical theme park in Kentucky.
We've spotted a trend here – theme park creators are increasingly looking to recreate entire experiences when developing attractions, drawing on movies, games and events that stirred audiences' imagination.
Enter: The Hunger Games
One of this year's most anticipated theme park openings, the Hunger Games attraction will soon be opening at the new Lionsgate zone at the motiongate™ Dubai theme park, part of the massive and ambitious Dubai Parks and Resorts development in the UAE.
Amid must speculation about what kind of action guests could take part in at a Hunger Games theme park, organizers revealed that fans will be able to experience Katniss Everdeen's heart-racing fight for life in simulated hovercraft and bullet train rides.
In the simulated hovercraft ride visitors will be able to whizz through the post-apocalyptic world of Panem and take part in a 'battle in the sky'.
The bullet train roller coaster, on the other hand, will take riders from the poor mining region District 12, Katniss' neighbourhood, to the Capitol at the seatbelt-gripping, cheek-sucking, speed of lightning.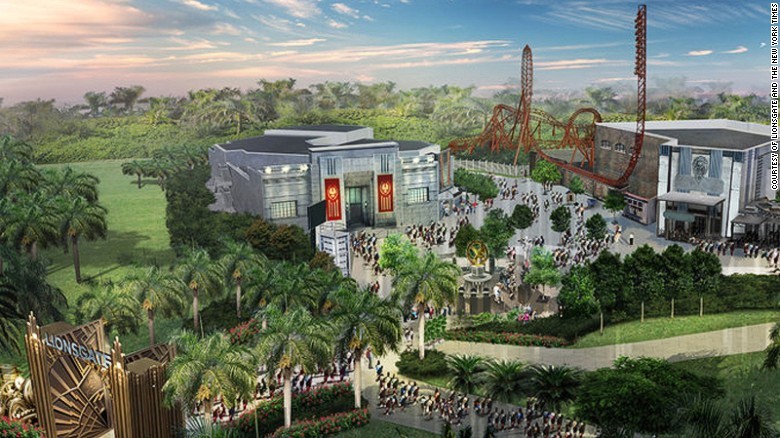 There are rumours that guests will also be able to pop in at Peeta Mellark's bakery and that there could be retail stores selling Hunger Games memorabilia dotted around motiongate™.  We'll have to wait and see when this park opens its gates in October this year.
Lionsgate Entertainment Corp. plans to build two more Hunger Games theme parks at Macau in China and in Atlanta, Georgia in the USA in the near future.
In a press release technology theme park concept company Avatron said: "We are pushing the thresholds of location-based entertainment storytelling like never before, thanks, in part, to our unique combination of experienced creative leadership and technology integration expertise. We look forward to sharing this game changing experience with future guests."
According to the website, motiongate™ Dubai will eventually become one of the region's biggest theme parks, featuring attractions from Sony Pictures Studios, DreamWorks, Lionsgate, Smurf's Village and Studio Central.
So look forward to immersing yourself in your favourite Hollywood movie at a theme park near you!