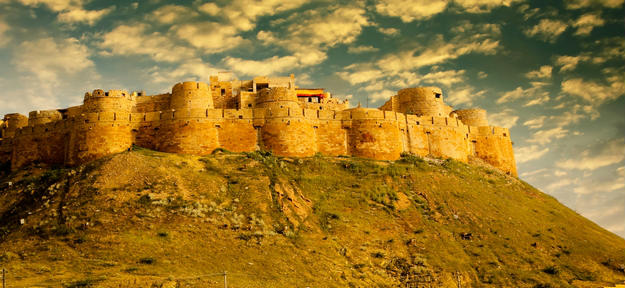 Is Jaisalmer, your next vacation spot? The Desert camp Jaisalmer is the best holiday package that you may want to choose to enjoy a beautiful stay in the deserts. Unbelievably, a trip to Jaisalmer will definitely give you a different experience from any other desert camps you have been.  The Thar Desert has a lot of sunshine and a never-ending stretch of sand, which makes it ideal for every travel enthusiast. With the widest range of options, here we have shortlisted the top 3 Desert camps Jaisalmer that are frequented by visitors across the world.
What's the best camp for you
The Serai – Luxury redefined
The Serai is for people who love luxury. It offers 21 large size canvas tents spread on the land of 30 acres. The camping ground is in the Great Thar Desert. The size of each tent is approximately 1000 square feet. With such are huge space, you know what to expect. Yes, this luxurious tent offers you a comfortable bedroom, living room, posh bathroom with all amenities, relaxing area, private garden, private pool, and spa.
Damodra Desert Camp – Enrich in a peaceful atmosphere
This desert camp has 10 Swiss tents located rightly in Sam Sand Dunes, the most authentic sand dunes in India. Sam Sand Dunes is equally beautiful to the sand dunes of Dubai. A peaceful atmosphere surrounds it and you get the most rural experience here. Local village food is served upon request, you can enjoy the traditional music and dance in the evening. The camp is decorated with traditional antiques and artifacts that remind you the life of kings in Rajasthan.
The Prince Desert Camp – For a royal and king like experience
It is one of the largest tent camps in Jaisalmer with royal experiences. The tent has the most beautiful interior décor and alluring exteriors with an authentic feel. You can watch the sunset from the comfort of your tent while sipping the hot chai. The sky changes from orange to pink during sunset. You can enjoy long walk on the sand dunes on a cold night and stay under the stars and moon.
A luxurious stay in Hotel Suryagarh
If you are a person who loves luxurious and want to enjoy a king-like-stay, you can choose this hotel. Hotel Suryagarh has the best interiors that reflect the traditions of Jaisalmer. The rooms are air-conditioned with amenities like pool, fitness center, lavishing restaurant, spa, lounge, hot tub, indoor pool for kids and adults and more. Whether you are traveling with your family or if you are here for a honeymoon or a business trip, the hotel has the best pick of room for you. The cost of the room ranges from 15000 to 38000 INR per day.
Enjoy a royal stay in Hotel Nachana Haveli
A place amidst architectural marvels from the ancient heritage, the Hotel Nachana Haveli is equipped with majestic styles of Rajasthan. The antique furniture, arched stone ceiling, heart throbbing courtyards help you enjoy your royal stay. It offers rooftop dinner facility that adds charm to your honeymoon trip. Have you ever thought of eating a romantic dinner gazing at the stars? Try it here! All these facilities are available at the cost of 3500 to 5000 INR.
A simple yet comfortable experience in Himmatgarh Palace
If you do not want to enjoy the luxuries and look for a peaceful place to spend your nights, you can choose Himmatgarh Palace that is available within your budget. The hotel offers comfortable rooms, around the clock room services and you can also enjoy facilities like pool, gym, lounge, bar and more. The hotel serves amazing Rajasthani meals. The cost of rooms ranges between 2000 to 5000 INR per day.
Why is Jaisalmer different from others?
Have you been camping in the deserts before? Whether you love desert camps or if it's your first desert camp, Jaisalmer has everything for you. In simple words, you can live life as kings here in this desert. While camping, you may also enjoy camel rides, night safari, sunset walk, jeep safari and enjoy the delicious local food. The local music, Rajasthani Thali and the vibrant nights would make your trip the most memorable one.
Booking through Royal Adventure Tours
Whether you are looking for a deluxe stay, luxury stay, or any coastline resort, Royal Adventure Tours provide you with the best deal according to your budget through online and telephone bookings. So, what are you waiting for! Finalize your dates, book your Jaisalmer Rajasthan tour package