If you want to explore a different yet splendid place then Assam is the perfect spot for you. The scenery and culture will surprise you, and you will be astonished to look at all the picture perfect landscapes. Assam is a home for various crafts as well. The state has much more to offer than you think…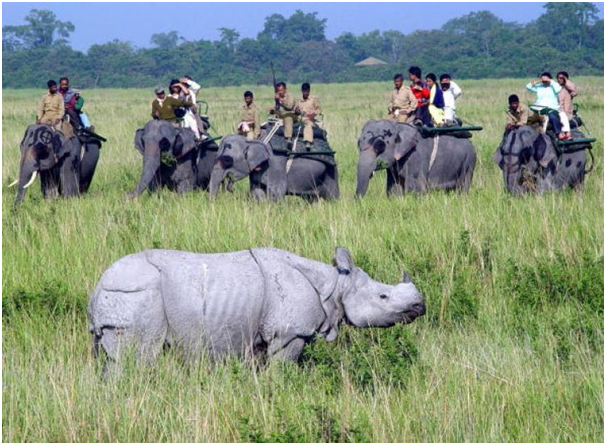 Kaziranga National Park: – This national park is a world heritage site. The Kaziranga National Park is widespread over 430 sq. Km and you will get to see many wild species such as elephants, sambar, deer, Indian bison, rhinoceros, tiger and many other animals.


Agnigarh Hill: – The Agnigarh Hill is situated in Tezpur. According to Hindu mythology, there was a fortress built in the hills by King Banasura with a view that could isolate his daughter. Not just this but the fort was surrounded by fire so that there was no movement in and out of the place and that's how the hill got its name. Interesting right?

Kamakhya Temple: – This beautiful temple is situated on the Nilachal Hill, which is 800 feet above water level. River Brahmaputra flows by the northern side of the hill and the view is incredibly splendid. Apart from enjoying your time praying at this temple, you can also admire the serenity of the river and hills.

Orang National Park: – This well-known park is famous for animal species of different kinds. Visit the park to see some beautiful animals like the Royal Bengal tiger, leopards, elephants, one horned rhinoceros and many more. The place is also a paradise for bird watchers as you can find a large number of different local and migratory birds.

Haflong Lake: – Located in the central area of Haflong hill town (famously known as the Switzerland of East), the Haflong Lake is a soothing place. If you want a calm vacation, then spend some time here admiring the blue hills, beautiful lakes, waterfalls and gorgeous pineapple and orange trees.


Digboi: – Asia's first and world's second oil refinery is in Digboi. This oil town is not only famous for the refinery but also for the stunning and ancient tea gardens. Head over to the Digboi oil refinery, Ridge Point and Digboi Centenary Museum to know everything about this incredible place. If you enjoy photography, then you can get a stunning view of the eastern mountains of Himalaya's filled snow and sometimes clouds! We know it sounds awe-inspiring but it is a different feeling when you see it with your own eyes. 
Other than this, there are several attractions in Assam, which will not only surprise you, but they definitely will leave you in awe. So start packing up and book your train tickets to visit Assam. Also, find a good source of booking train food . Travel Khana provides great food in train and they are basically a railway restaurant on the web through which you can pick several cuisines.