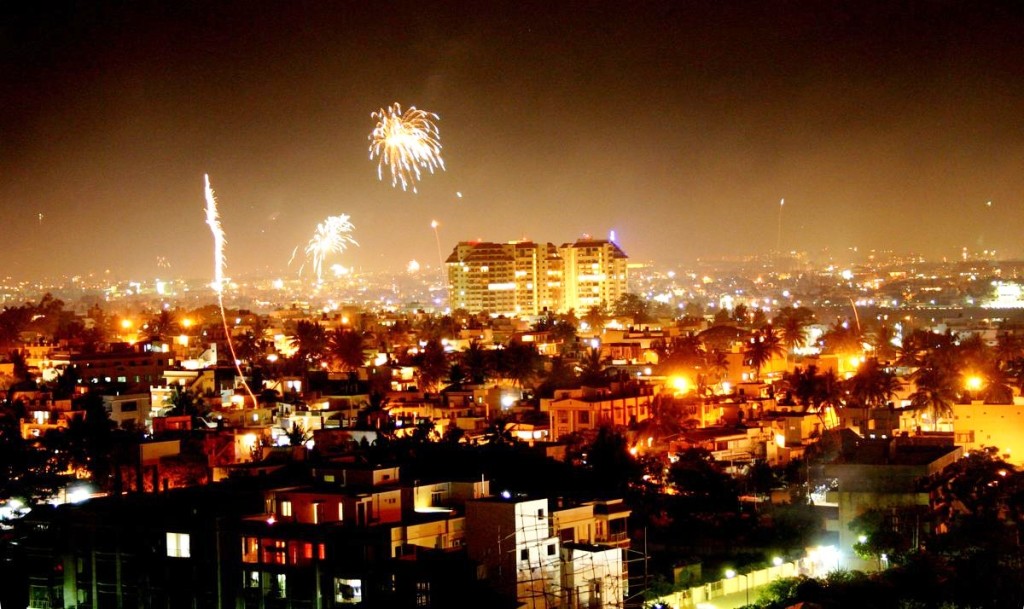 Visiting India for the first time any sooner. Well, this the festive season in India and celebrations rise to their peak during this phase. Dussehra now past, coming ahead is Diwali, which is one of the most celebrated festive ceremonies in India.
Diwali or deepawali is the greatest and brightest of all the Hindu festivals. It is popularly called the festival of lights. An old celebration to praise the triumph of light over darkness and good over evil, Diwali is symbolic of a longstanding ritual that has its essence corresponding to not just one but many religions. For a foreigner or outsider who has never seen the festival of Diwali from up and close, it is really a unique experience to have.
In Hindu mythology, Diwali denotes the homecoming of the Lord Rama subsequent to vanquishing the evil that Ravana was. Diwali is also equivalent to the Hindu New Year and consequently a noteworthy occasion in India, despite the fact that it's additionally celebrated by millions over the world, by people from India, Nepal, and Malaysia to as far as the United Kingdom, with thousands decorating Diwali lights at their homes, much like the Christmas. On the night of Diwali, it is usually a moonless night, happens on the darkest, new moon night of the Hindu month called Kartika. This backdrop is all the better to see the firecrackers and appreciate the typical smoldering of lights and candles as means of illumination.
The date of Diwali varies every year, but usually falls in October or November. This year it falls on October 30. The ceremonies and festivities start five days in advance as the festive mood kicks across India. There are other happy days before the day of Diwali. The festivity is set apart by Dhanteras, Naraka Chaturdasi on the second day, Diwali on the third, Diwali Padva (a day to respect the wedded couples) on the fourth day, and Bhaubeej, a day to respect kin, on the fifth. Dhanteras falls about 18 days after the Dussehra ceremony, which is the way Diwali's date of celebration is resolved every year. Lights, decorations, firecrackers, music, desserts, sweets, etc. mark Diwali as one of the happiest festivals which are celebrated in India. Across the streets you would see garlands and flowers being sold by vendors for worship rituals and decoration purposes.
Homes look bright as several little wicks or diyas are lit on this day. This is a way to pay tribute to Goddess Lakshmi, the Hindu goddess of riches, while firecrackers are set off in later in the evening. Nowadays, firecrackers are less in fashion, celebrating Diwali in a more green and eco-friendly way.
Rangolis are made in almost every household, utilizing rice, paint, colorful sand, powder, and petals. In vivid geometric layouts, spread at the main entrance to the house or at the porch or veranda, these rangolis are meant to welcome Goddess Lakshmi. Blessings and desserts are traded between kin, neighbors and friends, cheerful Diwali wishes and welcome are sent by means of greeting cards, emails, texts, or gift hampers. Wearing new and ethnic clothes on this day is also in trends. It's additionally a period on which people take spring cleaning to their houses. Windows and doors are kept open on this day. It is really a lot of fun to celebrate or observe this interesting festival of lights. Some places like Jaipur, Kolkata, Lucknow, etc. celebrate Diwali with a lot of fanfare. Choose a place of your liking and if you need a suggestion, take a train to Lucknow from Delhi. Check train no. 12419 running status to see if the timings suit your schedule. Make ticket bookings accordingly. Delhi to Lucknow train ride is a breeze and you would reach your destination in no time. Get your IRCTC train reservation done as soon you can, since the rush always gets to the peak during festive seasons in India. To save yourself any hassle in case of a train delay, do check the live 12419 running status before you head to the railway station. Have a great time!