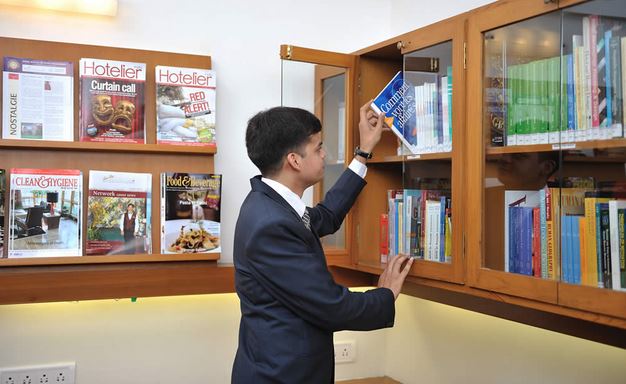 As the world gets connected and globalized, the number of business travelers and tourists has witnessed a huge rise in the last decade. This has pushed the hotel and tourism industry to achieve higher benchmarks of service and quality to cater to all kinds of demands of the international travelers and tourists. Hotel management programs allow people to work in an industry requiring a very diverse set of skills in an individual.
Smiling faces, enjoying delicacies from around the globe, gorgeous décor, flashing suits and getting paid handsomely for the same, if this is what you want, then hotel management course from top Hotel Management College in Gujarat is the right option for you. Some of the top hotel management colleges in Gujarat providing quality hotel management education to their candidates are as follows:
Jindal School of Hotel Management
Gujarat Institute of Hotel Management
Asia Pacific Institute of Management
Vivekanand Institute of Hotel and Tourism Management
Choosing a right hotel management college in Gujarat
If you are passionate about serving people with all smiles and desire to pursue a successful career in this industry, then you must join one of the top hotel management institutes in Gujarat to learn the tactics and polish your skills. There are several hotel management colleges in Gujarat and every hotel management college offers a unique set of opportunities. But, one must remember that there will be several traps and must be very careful about the steps one takes. So, before choosing a good hotel management college in Gujarat, some aspects like the below ones must be considered.
Accreditations and affiliations – For a hotel management qualification to have value, it is vital that the institute is accredited internationally or nationally. The aspiring students must also know about the regulatory body which gave the certification.
Academic quality – Quality of the hotel management programs, reputation of the educational college and expertise of the faculty are some of the important parameters to be considered. Also go through the program content and make sure that it is industry friendly. Find out if the course provides internship opportunities and hands on experience to the learners.
Placement opportunities – It is one of the most important factors to be considered. Go through the placement stats of the institute by getting in touch with its alumni through social networking websites. Also talk to the current students on campus and listen to their feedback.
Practical and training facility – Check if the hotel management college in Gujarat provides the facility of practical and training lessons. It is important that candidates get trainee-ship which will significantly enhance their chances to get a job.
Learning environment – Candidates can grow only if the environment of the institute is healthy. It is not only about the hotel management education, cultural diversity also plays an important role. So, look at this angle too before choosing one of the top hotel management colleges in Gujarat for studies.