There are a number of hotels scattered across the world that are home to a number of luxurious hotels rooms and suites that almost seem too good to be true.
With lounges where you and your family can sit back, relax and spend time watching television together, balconies that look out onto views that quite literally take your breath away every morning you wake up, and amenities that are hard to find anywhere else, there are some hotel rooms and suites that quite literally take the cake.
If you are looking for somewhere to stay on your next vacation – maybe your destination depends on the accommodation you find – that is unique, comfortable, luxurious and all things amazing, we have put together a short list of three spectacular suites that might tickle your fancy:
Underwater Suite – Atlantis, The Palm in Dubai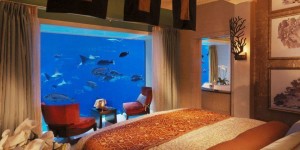 As the name suggests, this Dubai hotel suite is located underwater, but be assured, there is no chance of you getting wet!
You have the opportunity to experience an intimate and romantic atmosphere in one of two of Atlantis, The Palm's Underwater Suites – aptly named Poseidon and Neptune.
Once you enter your Underwater Suite, the first thing you will notice will be the breathtaking view you will wake up to every morning, looking over the ancient ruins of the mythical lost city of Atlantis and a whopping 65 000 of its marine inhabitants.
Floor to ceiling windows quite literally give guests a window into the Ambassador Lagoon and the suites include an ensuite bathroom, which also gives you the opportunity to view the Ambassador Lagoon while you are soaking in the tub!
Tree Hotel – Sweden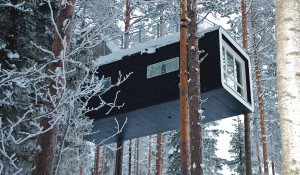 The Tree Hotel located in Sweden has a number of amazing treehouses that take unusual shapes and forms above the ground.
The Cabin, The Mirrorcube, The UFO, The Blue Cone, and The Bird's Nest are each unique and out of this world accommodation options that take the same form as their names suggest.
The Mirrorcube is just that, a cube that hangs out in the trees that is camouflaged by mirrored walls that reflect their surroundings. Don't worry, there are windows spread out around the cube ensuring that guests can indulge in panoramic views of their surroundings during their stay. What's more, the cube is home to a double bed, bathroom, lounge and rooftop terrace, making it the ideal spot for couples.
The Bird's Nest is another amazingly bizarre accommodation option that the Tree Hotel has to offer. Made out of large wooden sticks – like a real bird's nest, just larger, – The Bird's Nest's makes sure that it blends into its surroundings and includes separate bedrooms, bathroom and a living area. What's more amazing that a bird's nest for humans?
V8 Hotel – Germany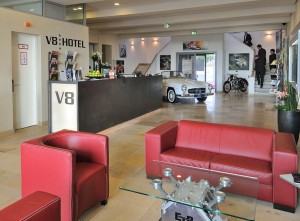 Car fanatic? Then the V8 Hotel located in Germany will be a dream come true, as you will have the chance to sleep in one of a number of themed rooms that are based on popular and much-loved cars.
Each room has its very own theme incorporating personal touches, younger cars and some older models that car-lovers will more than likely swoon over.
There are ten individual rooms that are based on everything from a car wash to a racing, and include over-the-top details that will have guests wanting to extend their stay or move in permanently.
These three options are just a few of many unique and astonishing hotel rooms and suites that are worth spending some extra money on, as they offer a once-in-a-lifetime opportunity to experience some of the world's most unique accommodation options.