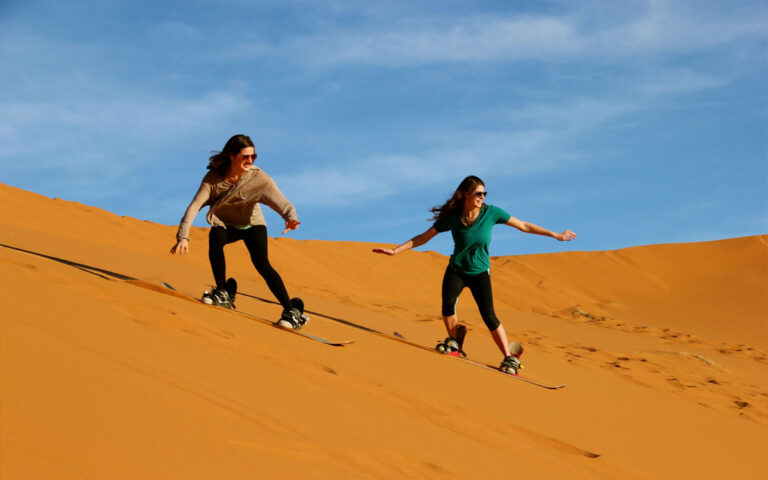 There is so much more on offer outside Dubai's glitter and glam cosmopolitan hub. Aside from the famous world record-holding architecture, shopping souks, sensuous spa treats, and gastronomic delights, the most populous city in the United Arab Emirates has plenty more in store for adventurers of every kind.
Delightful desert experiences
A trip to Dubai won't be complete if you haven't set foot on its famed desert sands. Lying directly within the Arabian Desert, most of Dubai's landscape is highlighted by sand dunes and plains, creating a pattern of sandy colors all around.
Desert escapades can be enjoyed all-year long, with a cooler climate (particularly in the evenings) compared to that in the city. When the sun makes its evening descent, the desert heat goes down to at least seven degrees due to the low humidity and ground water levels. This contributes to a perfect setting for enjoying the brilliant sunset and maximizing your Dubai desert experience.
Here are some more tips on what you can do and how to make the most of the Dubai desert:
1. Safari spree
Embark on a desert adventure during the day working up towards sundown. There are a bevy of desert sand sports that you can try – from sandboarding the slopes or taking a trusty 4WD thrill-ride; the choice is at your fingertips.
Tours are available to a trek out to the undulating sand dunes of Dubai. You have a choice of getting behind the wheel (or the backseat) of Sport Utility Vehicles (SUVs) or going for a quad bike ride. Both activities offer an adrenaline rush while traversing dune valleys or teetering on sheer drops.
Some tours also offer private (and often luxurious) safari escapades where you will be picked up from your hotel and driven to the sand dunes in high-end air-conditioned vehicles. You can cruise at a leisurely pace in vintage rovers, with your own personal tour guide snapping your photos. You can also choose to perch your vehicle on some of the tallest sand dunes and simply soak in the stunning sunset with a glass of sparkling date drink.
After a bout of off-roading, as your tour winds down, grab the chance to take snapshots amidst a golden sunset. The dazzling array of colors will simply take your breath away, so either you click away and immortalize it on photos, or just keep the sunset view surrounded by the aurum sands etched in your memory.
2. Camp under the stars
While there is no magic carpet ride, you can still definitely enjoy Arabian nights by scheduling a sunset feast. Settle into plush Arabic carpets and cushions laid out in the soft desert sand while sipping chilled champagne. Take a well-deserved respite from the day's activities and trade conversations while relishing the flavor of decadent treats.
You can also choose to visit desert resorts in the vicinity. Spend a vibrant evening soaking up the local culture with traditional craft souk, pottery, archery, and kite flying. Coupled with their warm hospitality, you are welcomed with a wide variety of entertainment, which includes live music, Tanoura and Emirati hair dances, fire shows, and even pyrotechnics.
Partake of the mouth-watering dishes, either set for a romantic sunset dinner for two or a buffet of gustatory delights from across the globe. There is always something to satisfy even the most sophisticated of palates at any of these desert excursions.
Some even opt to stay until morning and set up camp to have an authentic feel of the Bedouin lifestyle. For those who want a more opulent experience, glamping (or glamorous camping) is another option. These tented-style villas take the lavish lifestyle to a new level with their own infinity pools in the middle of the desert. Here, you can rest and relax while taking in the peaceful scenery and just marvel at how the sun rises and sets over the sands.
3. Close to nature
The Dubai Desert Conservation Reserve also welcomes visitors to have an up close encounter with the desert's floral and fauna. It may not seem like it, but the desert is teeming with natural wildlife such as sand cats, Gordon's wild cats, Arabian wild fox, sand fox, Arabian hare, hedgehog, and pygmy shrew. If you're lucky, you can also catch gazelles and the now thriving Arabian Oryx taking their own sips in one of the natural oases around.
You can also see camels trek around the spines of sand or the date palm groves while on a hot air balloon ride. Up in the air, the view is majestic, especially when the sky bursts into a bright kaleidoscope of colors as the sun sets.
Noteworthy reminders
With the wealth of things to do, the desert is never a boring place. Just be mindful of some basic information such as:
Dress code
Light, loose clothing and covered footwear are best. Do not forget to pack a light sweater or jacket as evenings in the desert can become quite chilly.
Bring good sunglasses or photochromatic lenses for those who wear eyeglasses.
Wear hats and put on sunscreen, especially when you're under direct sunlight.
Be observant of their traditional customs. Women are advised to cover shoulders and knees when in public.
Photography
It is considered offensive to photograph Arab women.
Permission must be obtained before taking photographs of Arab men.
Taking photos of government buildings or military installations are not allowed.
A ride to remember
Whether it is on four wheels or soaring through the skies, a ride over the desert sands of Dubai is a truly remarkable experience. Sun up or sun down, the choice of a sparkling sand escapade is entirely up to you. You can enjoy it alone, with a loved one, or with friends and family, and still find something that will satisfy your sense of adventure.