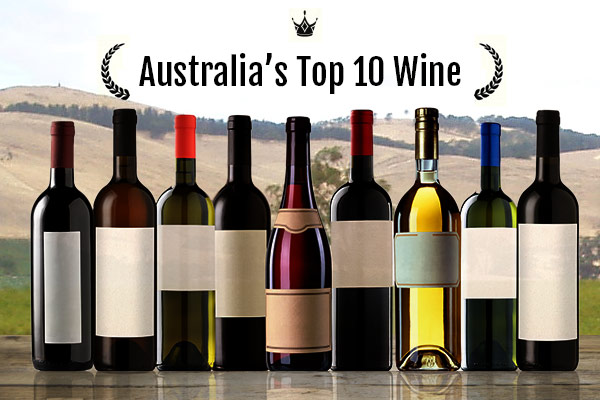 Facts Say!
Australia is one of the largest producers and fourth largest exporter of wines in the world. This is very clear by a fact which states that over the last 25 years, the total wine production of this mini-continent has tripled. Hats off to the hard work, ever-growing passion and love of Aussie winemakers towards wines, winemaking and viticulture that has helped to show a promising strength for the Aussie wine industry.
There's more..
Not just this, Australia has the largest domestic market too in which people buy wine online and on cellar doors both. That accounts for 40% of Australian wine production. Said in another way, Australians consume over 530 million litres of wine annually. Now, that means per capita consumption of wine in this kangaroo land is …. 30 litres. Woow!
How to choose?
With every Australian state producing millions of litres of wines from tens (if not hundreds) of grape varieties under 60 officially recognised wine regions, one can imagine how vast the wine platform here is. No wonder, it can be sometimes difficult to find a perfect wine for a special occasion since every wine region produces different character in a wine grape and everyone cannot explore every wine.
The Intelligent Way
So, in order to find the sorted solution to this query we've compiled a list of top 10 wine varieties (including red & white both) grown in Australia along with the regions where these are grown with their most appreciated flavours. This will provide a right direction in choosing the right wine or wines that you will never go wrong with, whether you pick a low-budget, moderately-priced or an exquisite wine. Have a look!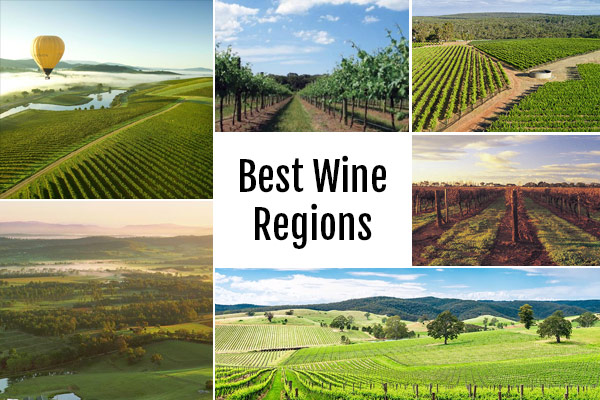 A) REDS
Shiraz
The prominent variety of Australia, Shiraz, is widely grown in Barossa followed by Hunter Valley, Clare Valley, McLaren Vale, Eden Valley and Heathcote.
Cabernet Sauvignon
This second most planted grape variety in Australia is the star variety of two regions – Margaret River and Coonawarra. Other regions doing well in this variety are Barossa Valley, McLaren Vale, Langhorne Creek and Swan Valley.
Merlot
For Merlot wines, the first choice is Murray Darling – Swan Hill. You can also opt for Riverland, Riverina, Langhorne Creek, Wrattonbully and Manjimup.
Pinot Noir
Adelaide Hills is giving some of the best Pinot Noir wines in Australia. For high-quality Pinot Noir, look no further than cool climate Tasmania wines. Mornington Peninsula, Yarra Valley and Riverland regions have also shown their strengths for this variety.
Grenache
Riverland, Barossa Valley, McLaren Vale Langhorne Creek and Murray Darling – Swan Hill will be the right picks for Grenache wines.
B) WHITES
Chardonnay
This is a star-variety of Margaret River and Adelaide Hills. Other regions producing some of the best Chardonnay wines include Mornington Peninsula, Yarra Valley and Hunter Valley
Riesling
Clare Valley and Eden Valley Rieslings have gained a worldwide reputation for themselves. They are the best! Great Southern, Tasmania, Henty, Canberra District and Grampians wine regions have also gained some popularity in recent years for Riesling production.
Pinot Grigio
This variety gains best flavours in cool-climate, so it's doing best in Mornington Peninsula, Tasmania, King Valley, Adelaide Hills, Riverina and Murray Darling.
Sauvignon Blanc
Another star of Adelaide Hills, Sauvignon Blanc and its blends are favourites of many. Other than Adelaide Hills, this white variety is also performing great in regions like Margaret River, Tasmania, Orange and Yarra Valley.
Semillon
The oldest Semillon vines can be found in Barossa, so you can expect some really great Semillon single vineyard wines and blends coming out of this region. Hunter Valley is also currently getting many awards and accolades for its delicious Semillon wines as well. Other choices can be Margaret River and Clare Valley.
A special occasion needs a special wine and you simply cannot go wrong with it. So take advantage of this highly-researched list of top wine varieties of Australia and their best regions to shop the right wine for parties or for enhancing your palate. Look no place other than Just Wines to buy wine online from Australia and New Zealand. One of the fastest-growing online wine retailers of Australia, Just Wines have more than 6000 wines onboard from more than 1000 wineries. Wines from all the varieties and regions mentioned above can be easily shopped at this online wine retailer which is now Australia's 2nd Biggest Wine Website. Moreover, it is the best place to find best deals on wines. Happy Wine-ing!