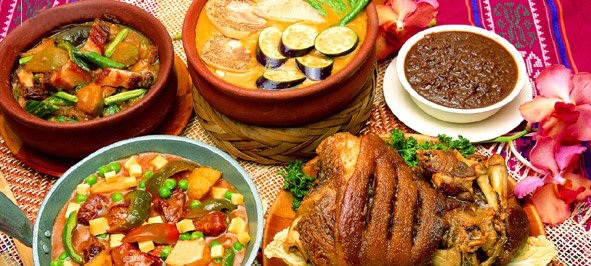 Food has been the number one reason why people fly to different countries in a year because you will truly get to experience the country if your eat their food. And if you are heading to Manila, aside from the activities and tourist spots, pretty sure you are also excited to try local dishes.
If that's the case then you are in for a treat as this article will talk mostly about the best places to eat in the Philippines.
Manila


(photo source: rappler)
There are so many dishes that you can find in Manila but some of the best can be found in the busy streets. If you really want to feel like a local in Manila then you should try their street food. Some of the choices include tokneneng, isaw, fish ball, squid ball, chicken balls, betamax, tenga and many more. All of those will taste better if dipped in vinegar.
Cebu


(photo source: yedilicious.com)
Cebu, also known as "Queen City of The South" is one of the richest places in the Philippines. There are so many great historical sites that you can also visit here. A lot of tourists are going to this place to not just try extreme activities they've never done before but to also eat the famous Cebu lechon. Yes, Cebu lechon is everyone's favorite and it is a must-try if you visit the Philippines. Lechon is a famous pork grilled in the fire and served with love. If you are curious about the taste, better book that flight and head to Cebu!
Davao


(photo source: authority nutrition)
If you want to taste one of the most superficial fruits in the Philippines, visit Davao City! Durian is one of the most infamous fruits not just in the Philippines but also in Asia. Durian may smell stinky but its taste will literally make your jaws drop. Durian is considered as one of the most delicious fruits in the world. You can find the best tasting durian in Davao City!
Bacolod


(photo source: my fashion juice)
If you love butterscotch, you might as well visit Bacolod better known as the "City of Smiles"!. Bacolod is known to be the Philippines' number one supplier of butterscotch. As per Wikipedia, Butterscotch is a type of confectionery whose primary ingredients are brown sugar and butter, although other ingredients are part of some recipes such as corn syrup, cream, vanilla and salt.
Legazpi


(photo source: homepages)
Do you love spicy food? Then worry no more when you visit the Philippines because Legazpi City is a place for people like you. Spicy dishes are rampant in Legazpi City and one of the most famous dishes is Bicol Express. Bicol Express is a pork stew garnished with spicy ingredients. Bicol Express is a filipino-made dish.