The Philippines is known for its beautiful islands and natural resources. A country located in Southeast Asia that is very much rich in culture and hospitable people. Many people from all around the globe would travel long hours just to witness the beauty of the Philippines. While there are many great tourist attractions, not a lot of people are aware that there are also best-tasting food and cuisine in the said country.
To those who loves food very much, the Philippines is probably one of the countries that you should definitely visit. If you want to know the best places you should go to for a food fest, see the list below.
1. Manila's Street Food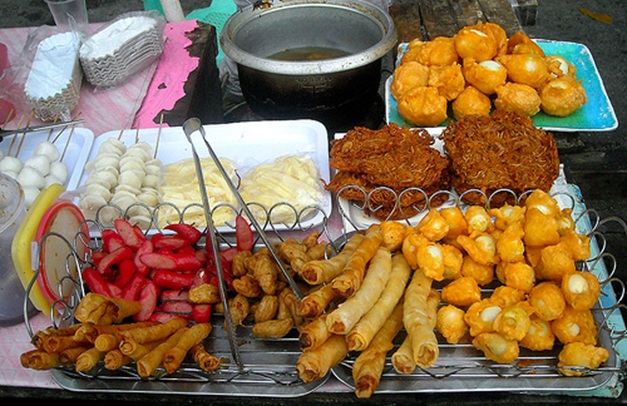 (photo source: pinterest)
Manila, the capital of the Philippines, is full of street food and as soon as you arrive, you should definitely grab some along the streets of Manila. Some of the famous street food are tokneneng (deep fried breaded quail egg), fish ball, squid ball, chicken ball, isaw (deep fried chicken intestine), chicken feet, siomai and many more. There are a lot to choose from but you have to be careful because there are vendors who would sell dirty or contaminated food.
2. Razon's Halo Halo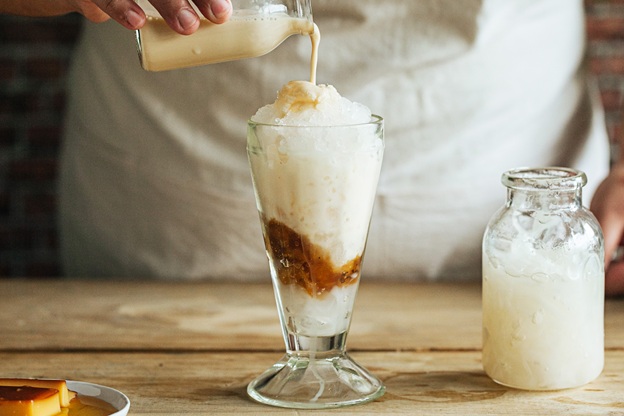 (photo source: spot.ph)
Razon's Halo Halo is originally from Pampanga in the northern part of the Philippines but because of the hardwork and perseverance of the Razon family, they we're able to establish almost a 100 branches nationwide. Razon's is probably the most famous halo-halo in the country and if you visit the Philippines, you should not miss this sweet and rich halo-halo.
3. Jollibee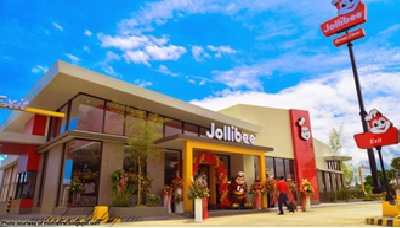 (photo source: foodevolution)
The ever famous Jollibee, one that is considered as the major rival of McDonald's, still stays strong despite the tight competition. Filipinos love Jollibee because the food that are being offered tastes like homegrown and authentic. If you are looking for a fastfood that will make your jaw drop, Jollibee is the best place to be. There are over 1,000 branches around the Philippines so it won't be a hard time for you to find one.
4. Cebu's Lechon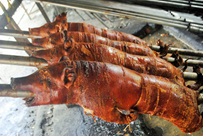 (photo source: miyonombre13)
Cebu is famous for its Lechon and a lot are saying that Cebu's Lechon is probably the best-tasting Lechon in the Philippines. Basically, lechon is a pig that was grilled under fire through a long wooden stick. While there are Lechon's around the country, Cebu's Lechon is still undeniably the best among the rest. If you wanna find out why, you better pay Cebu a visit!
5. Davao's Durian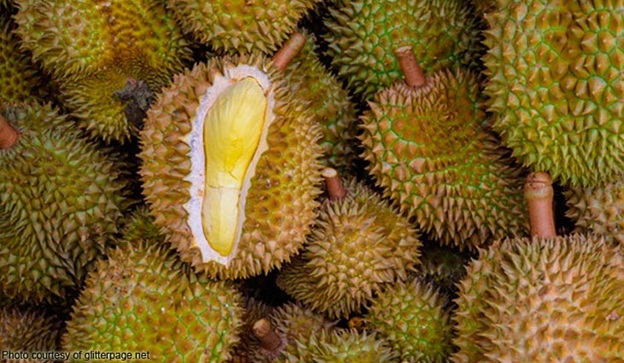 (photo source: glitterpage.net)
A lot of people are not fond of eating Durian because of its smell but it is actually one of the best fruits in the Philippines. Durian is a rare find and if you ever happen to have an encounter with a durian, you should not let that moment pass. Don't be deceived by its appearance and smell, its taste will surely not let you down. Go to Davao and have a durian fix!
The Philippines is really not just rich with culture and natural resources, it is also rich in cuisine and delicacies that can be considered as world-class! The ones listed above are just some of the best but there are also many other food that are worth trying in the Philippines so go and pay a visit to the beautiful archipelago.