Dubai is home to some of the most spectacular skyscrapers and historical sites, and is known for its incredible shopping experiences being home to some of the world's largest malls. The city is also however home to a wonderfully warm climate and an array of water sports that are not for the faint hearted. Water sports are very popular in some areas, so much so that there are beaches that have been specifically named after them. For example: Kitesurfing Beach. Due to the expansion of the city's coastline, the water scene has exploded, offering locals and tourists alike the chance to take to the warm waters.
Adrenaline junkies at the ready, if you're looking for something to get your heart pumping during your yearly vaycay in Dubai, here are four popular water sports that will do just that:
Diving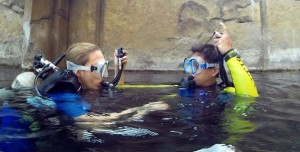 If you have never gone diving before, don't worry. There are plenty of places that offer PADI Scuba Diver courses to get you started. However, if you are a qualified diver and fancy taking to Dubai's warm waters, there is an array of dive sites waiting to be explored. The waters off Fujairah and Musandam offer breath-taking dives and wrecks which are the perfect places to spot the likes of turtles, moray eels, puffer fish, and more.
Jet Skiing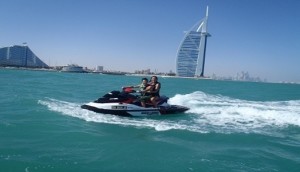 There are only a few places in Dubai where you can take to the water on a jet ski, Dubai Marina being one of them. It is only 20 minutes away along Sheikh Zayed Road (going in the direction of Abu Dhabi) and consists of seven beautiful kilometres of water by the Blue Marlin Ibiza. This means that once you are done racing your friends you can finish your day off with a delicious brunch and catch your breath.
Wakeboarding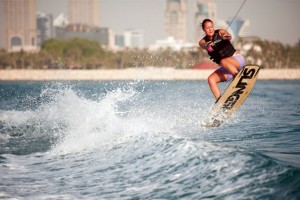 Wakeboarding is one of the city's more high-adrenaline water sports, and one that needs strength in order to get started. The sport involves strapping both of your feet onto a single board (think around the lines of a snowboard) and being pulled behind a speedboat. If you are new to this sport, don't be discouraged if it takes you several attempts to get going, as this is normal. It will take some time and effort to get yourself standing upright in order to ski across the surface, meaning that the effort and strength needed by your arms, legs, and back to stay upright and balanced, should not be understated.
Speedboat Trips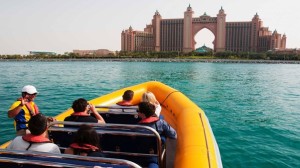 For those who are less interested in getting wet but would like to take to the water anyway, speed boating is the perfect water sport for you. With the wind blowing through your hair and the sun on your face, you can set your eyes on Dubai's skyscrapers from the sea – giving you a completely different perspective of the glorious city. During selected tours, you will have the opportunity to stop off and have a dip in the ocean, as well as take some beautiful photographs as the sun sets on the way back to land. Sounds like perfection!
During your trip, make the most of having the ocean on your doorstep by taking part in one or more of the above water sports.