The United Arab Emirates is one of the famous destinations of travelers around the world because of the unique experiences and state-of-the-art architecture the country offers. Who would not want to visit and witness some of the grandest structures in the world such as the Burj Khalifa, Dubai Fountain and Dubai Mall?
Whether you're a local wanting to enjoy a staycation or a visitor planning a trip, make sure to include in your itinerary the following amazing things to do in Dubai, Abu Dhabi and other must-see places in the UAE.
Must-Try Activities in the UAE
When you visit the UAE to relax and rest with your family and friends, there is no shortage of fun and thrilling things to do. Here are some of the new experiences you must try if you visit the emirate.
1. Experience the Sunset Desert Safari Tour
A sunset desert safari tour is a must for every visitor of UAE. It is an experience you cannot do in other places. Don't forget to watch the stunning sunset as the views are awesome and breathtaking. Make sure to wear comfortable clothes so you can freely enjoy the tour.
Try sand skiing as well. The tour allows you to ski from the highest dunes. Don't be afraid to try it even you're not a pro at skiing because when you wipe out, the soft sand is there to catch you.
Another thrilling experience you should not forgo is the camel trek. This is a personal and unique way to explore the desert because you can get a glimpse of the vegetation and the peculiar animal life in the desert.
After that, enjoy a mouthwatering barbeque and the famous Arabic water pipe known as Shisha. And if you are a coffee-lover, try the Arabic coffee at the camp while watching the belly dancer performing around the campfire.
2. Visit the Largest Natural Flower Garden in the World
The Dubai Miracle Garden is a 72,000-square-meter attraction with over 60 million flowers on display. It first opened in 2013 and now draws more than a million of visitors every year. Every season, the floral structures are changed to make sure that repeat visitors will get a unique experience every time they visit this place.
There are over 60 different flower variants on site which include geraniums, marigolds and petunias. Wastewater through drip irrigation preserves the freshness of the flowers. The park is full of unique attractions and floral displays like the floral clock, an aromatic garden, and peacocks.
Take note that this park is closed during summer months. Temperatures can go as high as 40 degrees Celsius from the months of May to September which is not conducive to flower gazing. Still, you can go to this place to visit the Dubai Butterfly Garden, the first indoor butterfly garden in the region, as this is open all year round.
3. Swim and Play with Dolphins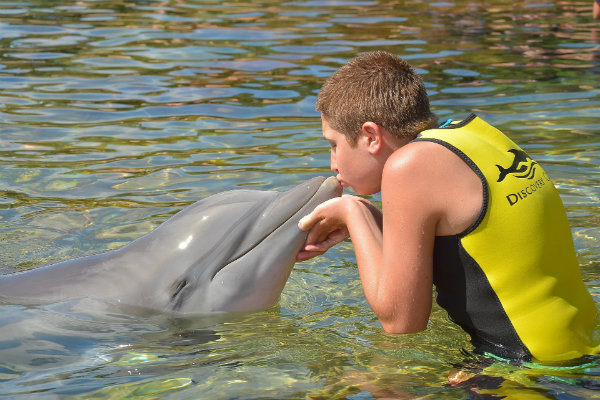 At Dolphin Bay in Atlantis, you get the opportunity to swim, meet and play with dolphins. You can choose from different dolphin experiences that are suitable for people of all ages and swimming abilities – from just standing in shallow water to swimming to scuba diving alongside the dolphins.
Wetsuits or vests will be provided along with towels for your use during the interaction. Before your dolphin experience, will you undergo a 15-minute orientation by the Marine Mammal Specialists. And you will be given to spend 30 minutes in the water. Make sure to book this experience early, preferably at least 14 days in advance, so you can save about AED 100.
4. Experience a Fast, Luxe Lifestyle at Ferrari World Abu Dhabi
Ferrari World Abu Dhabi is the first theme park in the world that is Ferrari-branded. It celebrates the spirit of the renowned racing marque. It houses plenty of high-adrenaline rides that you should not miss. Here are some of them:
●       Formula Rossa
Formula Rossa is the fastest roller coaster on Earth. Thus, it is the main attraction in this park. To be precise, this ride has a speed of 149 mph – it will seem like you are traveling through time.
●       Fiorano GT Challenge
Fiorano GT Challenge is the second best experience you can try in this park. It is built around a well-designed trick that sees two F430 cars shaped like a spider tearing along parallel tracks. During the ride, the twin coasters will cross paths at different points, adding more fun to the overall experience.
●       Scuderia Challenge
Scuderia Challenge is an advanced racing simulator that offers six-man races in a virtual Yas Marina Circuit. This is an experience you shouldn't miss, especially when you are traveling with competitive family members and friends.
These are just some of the unique and exciting experiences Ferrari World Abu Dhabi offers. You can always go back to this park if you missed out on any ride because it is open 365 days a year. The entertainment and adventure this park offers are created for you to share with your family and friends.
Make your visit a convenient one by staying at a hotel that is in close proximity to these unique, thrilling experiences.