And the weekend is back again!
Or almost back again. So is the entire debate around weekend plans.
We have been and still are in the middle of the same ol' discussions and dialogues, all revolving around a myriad weekend plans.
While our best friend either wants to check out the new bar that has opened in the vicinity or needs to attend the NBT which could be an end-of-season sale in her favorite brand; and there stands our S.O. lavishly bantering about his upcoming cricket match.
Amidst all this, there we sit on the couch trying to convince our friends or better halves into taking that long-awaited road trip.
But neither does the yes comes into the spotlight, nor the reason behind their digression from the point every time we mention a road trip.
The reason is simple, and the problem has nothing to do with your convincing power but the journey and its ultimate destination.
We mean, think about it.
If you already have visited a place, say ten times, would you still want to visit it?
Perhaps, for the lack of options and in desperation to head out, you may. But that doesn't mean they will too.
For a change, try suggesting road trip to a place other than Khandala, or Lonavala, or even Mahabaleshwar.
Then, top it with some mind-blowing pictures of the place, plus your brilliant marketing skills and then, watch their minds change for good.
Yeah, you might think we are back to square one when considering what those new, fancy places would be.
But don't worry, we won't leave you hanging on the hook.
Here, a little farther into the feed you have intriguing suggestions, ideas and places for your next road trip.
Quintessential Road Trip #1
Bamnoli
An offbeat road trip destination in Maharashtra, and a perfect weekend getaway near Mumbai, Bamnoli has plenty to fascinate your nature loving traveler's soul.
The road to Bamnoli offers a fancy hill drive, which makes the roadtrip to Bamnoli all the more fun. This naturally scenic village in the mostly untouched parts of Satara, Maharashtra, enjoys a prime location for being situated on the bank of Shivsagar Lake.
Interesting attraction of Bamnoli is the boat ride. Interesting for the fact that it presents three outstanding tourist spot options, namely Tapola, which is also called mini Kashmir; Vasota Fort, the trek to which is incredibly beautiful; and Nageshwar temple, that offers a mesmerizing sight.
Quintessential Road Trip #2
Pateshwar Hills
This least explored, almost untouched quintessential road trip destination and weekend getaway near Pune is a captivating place to explore.
Pateshwar hills not only has enchanting natural beauty but also got not one or two but eight ancient cave temples, many with some brilliant stone carved idols of Shiva, plus other deities. That makes exploring these caves all the more serene, with not only natural beauty served on the platter but also man-made beauty.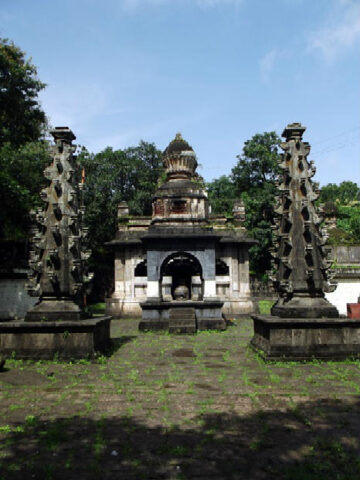 Known for having more than a thousand shivlings, also called pinds, Pateshwar Hills is quite famous for the Shiva temple which was built in sixteenth century. One of those aforementioned eight ancient cave temples is mostly underground, making it all the more intriguing.
Quintessential Road Trip #3
Phaltan
When looking for some of the best places to visit in Maharashtra, there stands Phaltan with all its enchanting beauty and mind-blowing sites.
Phaltan, a quintessential road trip destination located at a distance of two hours from Pune and four and a half hours from Mumbai, brings lots offbeat ideas to shape. One of which is adventure tourism near Mumbai. The other is agro tourism near Mumbai.
Why should either fancy you?
One, imagine yourself riding a bullock cart. Two, envision you are driving a tractor. Three, imagine you are plucking pomegranate off the trees in the orchard, then sitting in the backyard of a farmer having breakfast, and finally, tasting the freshest grapes of the season.
Wouldn't that take your city induced worries out of your mind?
You know what will take those worries and sight of ivory-coated-buildings completely out of your head? The following.
A walk down the windmill near Mumbai.
A trek to the Ajinkyatara fort presenting a brilliant three-sixty-degree view of lush greens.
A drive to the Kaas Plateau and Kaas Lake for mesmerizing sight of this valley of flowers, a World Heritage Site.
Or a drive to Bhigwan for birdwatching and boating.
And lots, read aplenty more fancy things to do around Phaltan.
Now, do you know what makes it all the more magnificent? And who could arrange those interesting sightseeing trips in Phaltan, and around, for you? And who would offer a supremely comfortable stay with all the modern facilities when you are out road tripping and need a comfy stay?
No. No idea?
It's the Jakson Inns, Phaltan's first LEED GREEN Platinum rated hotel with outstanding facilities like a swimming pool, a GYM, a therapy room with spa, kids centre, recreation centre, salad gardens and more. On top of that, it's got its very own restaurant called Green Bean, and its very own bar called Fulltoon.
That's not all, the experienced and humble staff at Jakson Inns brings you specially curated trekking and adventure tourism packages. And that shows they care.
For instance: where else, and in which other adventure package, would you get a foot therapy after a long walk or trek, and a long day, or get health drinks and flavored water during trekking and travelling. Don't take your mind for a spin, for the answer is pretty hard to find.
Now, with these mind-blowing destination ideas, and their incredible natural beauty, with a genius hotel to stay in, wouldn't just anyone say yay to taking a road trip near Maharashtra?
We've got you sorted, haven't we?